Category: SocialNetworkingApplication
OS: Windows
Latest Version: V435.0.0.42 – 2023-09-22
Developer: Meta Platforms, Inc.
Files: facebook_pc.exe (33MB)
---
Easily communicate and share fun moments with friends and family!
Facebook allows you to keep up-to-date with your friends and share your special moments. Through your Facebook account, you can communicate with friends, family, and other people, and engage in a variety of activities.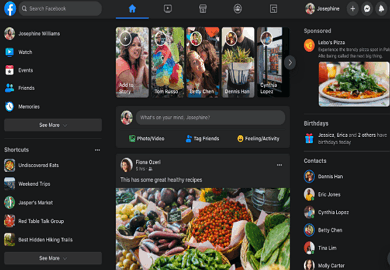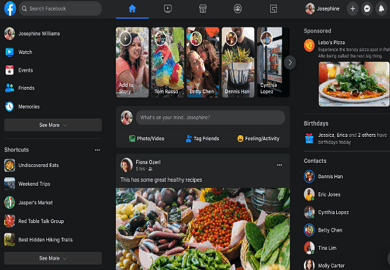 Facebook Main Function
You can use the messenger function quickly and safely through Facebook. You can chat 1:1 or in groups.
You can share or upload various posts such as photos and music. Posts provide empathy through comments and likes.
Provides voice and video calling. All features are available for free.
You can share your daily life with people through feed or stories. Shared daily life disappears after 24 hours and is stored in the archive.
It provides a group function that allows you to communicate with a variety of people. Groups are divided into public and private groups and can engage in various activities.
The people search function allows you to search and find a variety of people, including friends around you and friends of friends.
You can block people you don't like. Blocked users cannot view your profile, stories, etc.
It offers Meta's high security features. Facebook users' information and activities can be safely protected.
We provide an advertising center for your business. You can grow your own page and let people know about it.
You can shop through the marketplace. Check out products from various people!
We also provide a Facebook Lite version that allows you to use only major features such as messenger and voice calls.
Download for other platforms
Facebook FAQ
How can I unsubscribe from Facebook?
You can delete your account in the following way.
1. Access My Profile – Settings and Personal Information – Settings.
2. Account Center – Access your personal information.
3. Click Manage Account Ownership and click the Deactivate or Delete button.
How do I use the Facebook people search feature?
You can use the search function to find people.
1. Access the app and click the magnifying glass icon.
2. You can find people by name, location, etc.
Facebook Language support