Category: UtilitiesApplication
OS: Windows
Latest Version: V1.5.2 – 2023-10-22
Developer: Gobest
Files: gocleansetup152.exe (2,004KB)
---
PC optimization program that anyone can easily use
GoClean is a program that has PC optimization and CPU temperature check functions. You can shorten boot time by deleting unnecessary programs when booting the computer and leave logs of various computer errors.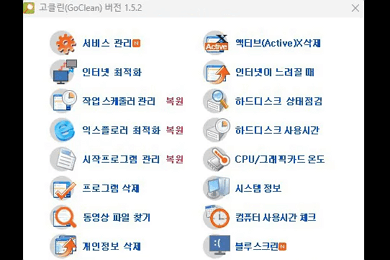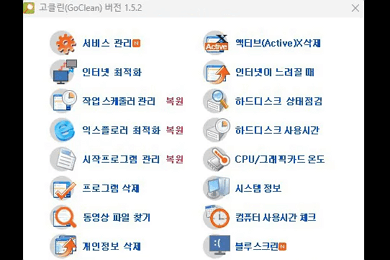 Goclean Main Function
GoClean is a program that manages your PC stably and optimizes it by removing unnecessary programs.
It has an intuitive interface that anyone can easily use.
Check and remove startup programs that use unnecessary resources when your PC boots.
Detects malicious code and prevents network environments from slowing down.
If a blue screen occurs while using your PC, you can check the cause of the error.
You can use the computer automatic shutdown function.
If you cannot run it after installation, you can solve the problem by referring to the following document.
It is recommended that you use the program after setting up real-time monitoring exclusion for V3 Lite antivirus.
Goclean How to install
If there are any problems with installation, first disable the real-time monitoring function of the anti-virus program and then proceed with the installation. Recommended for use with Windows 7 or higher operating systems.
Run the setup file and agree to the license agreement.
Select the components, specify the installation path, and begin installation.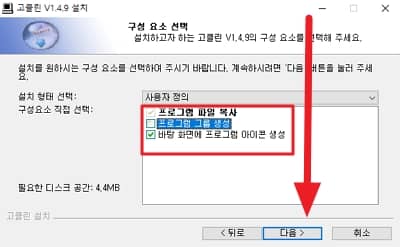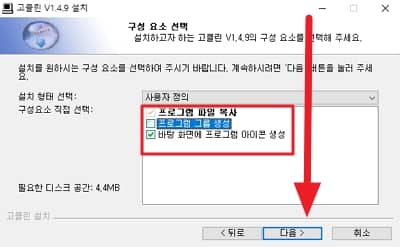 After completing the installation process, you can start using the program right away.
Goclean FAQ
How can I remove ads from GoClean?
Here's how to remove unnecessary ads:
1. Click "Task Scheduler Management".
2. If there are any advertisements, select and delete them all.
3. Click "Optimize Explorer" in the menu again.
4. Delete everything in your history.
How can I check the CPU temperature on GoClean?
You can check your PC's CPU temperature on the startup screen.
1. Select "CPU/Graphics Card Temperature" from the first menu.
2. You can check the appropriate temperature and current temperature for each device.
Goclean Language support