Category: SocialNetworkingApplication
OS: Windows
Latest Version: V3.6.5.3663 – 2023-11-01
Developer: Kakao Corp.
Files: KakaoTalk_Setup.exe (82.1MB)
---
Free messenger service to connect people and world
KakaoTalk PC version is a messenger app that allows you to use free chat and voice chat features with only a phone number without signing up. Emoticons and gifts provide a variety of services. Various lifestyle apps such as Kakao Shopping, Taxi, and Navigation are available.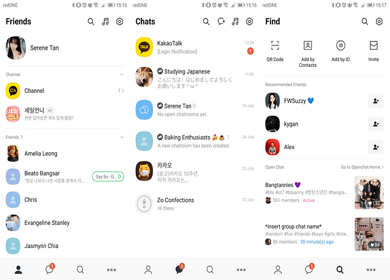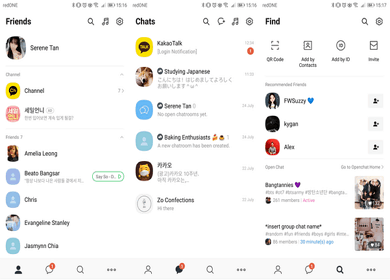 Kakaotalk Main Function
Various Devices
KakaoTalk is easy to use anytime, anywhere. It is used in various devices such as PC version and mobile version. In addition, it is possible to link each device.
Profile Setting
Express your own profile setting! You can decorate your profile with a variety of effects such as background music and stickers.
Conversation Backup
You can send out a conversation with your friends to your backup file. Synchronization of mobile conversations with PC is possible.
Various Themes
You can apply KakaoTalk -only themes. The applied theme can be changed at any time. It also supports the dark theme that will relieve the tiredness of the user eye!
Multi Profile
You can show a variety of profiles for each user. You can easily manage your profile by setting multi -profile.
Open Chatting
Participate in the open chat of various topics! You can get multiple information and friends. You can also make your own open chat and become a chief.
Emoticon
Try a variety of emoticons! You can have fun and active conversations. You can buy emoticons through emoticon shops or use unlimitedly through plus functions.
Voicetalk
Call with your friend! It supports the group and video calls that are not broken. Voicetalk, Facetalk Call comfortably!
Multimedia Sharing
You can share photos, videos, voice recording, and business PDF files. You can easily share with drags and drops.
Gifticon
Send a gift to your friend! Many gifts are available. You can also check the wish list that your friend wants to receive. Unintended gifts can be refunded at any time.
Friend Recommendation
Automatically recommend a friend who registered me and a close friend with me. Check out a variety of friends!
KakaoTalk Drive
You can collect photos, videos, and recording files that you shared with your friends. You can also save larger files through Talk Drawer Plus.
Quietly Leave
The group members can go out without knowing in the group chat room I want to go out. Now go out of unnecessary group chat room!
Block and Profile Closed
Anyone I hate can block it anytime. If you don't want to show my profile, you can set up your profile.
KakaoTalk Wallet
This is a service that can keep my information. Can serve as my ID card, and I can store electronic documents and financial information.
Kakao Service
Many Kakao services such as Kakao Navi, Kakao Taxi, and Kakao Bank are available. All services require Kakao wallet.
Kakao Shopping
Can shop in the app. You can check the products for each keyword. Also watch shopping broadcasts or check your special price.
Kakaotalk Pung
The Pung feature allows you to share my daily and various information. The shared pung will disappear after 24 hours.
Kakaotalk How to check blocking
Check recommended friend.
Check through Kakao remittance function.
Invite it to a group talk room and talk.
Kakaotalk FAQ
When downloading the KakaoTalk PC version, an installation error occurs.
If an installation error occurs, run the installation file with administrator privileges and proceed again. If you continue to have a problem, proceed with the installation after rebooting. If the error code is printed, check the guide page.
Can I use the Gifticon in the KakaoTalk PC version?
Gift service can only be used on mobile. You need to agree to use your wallet service.
How can I set the multi -profile in the KakaoTalk PC version?
How to set multi -profile is:
1. First run the app and connect to the left wheel shape.
2. Select Multi-Profile Management.
3. Select the desired multi-profile and press OK.
What is the price of KakaoTalk emoticon plus?
It is 3,900 Korea won per month. The first month is free and offers a variety of features such as emoticons unlimited downloads, automatic recommendations, and limited edition emoticons.
Kakaotalk Language support